MAIN) 1. Product Overview
MaxGauge is a performance management tool designed to support an effective performance management and fault management of each component which make up the computer system including the database, system, applications, and etc.  In respect of a system administrator who oversees the system operation, the three tasks shown in the diagram below are essential to  performance management,  and  each task must be carried out on the basis of a mutual interworking relationship.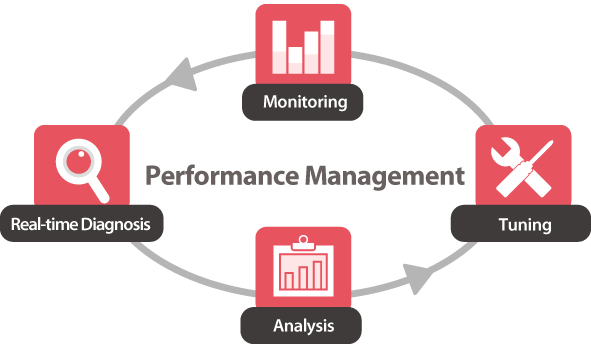 MaxGauge supports system administrators or database and application administrators who oversee the performance management and fault management, to be effective in real-time monitoring, diagnosis, and analysis.  And through the real-time monitoring feature, it allows the administrator to easily and quickly identify in which database or server the error occurred or the performance degradation occurred, among the many servers and databases.  In the event of an error or performance degradation, it easily identifies exactly in which part by what factors the problem occurred through a diagnosis process, ensuring a real-time resolution as much as possible, and it further investigates the root cause of the error or performance degradation through a post-analysis so that appropriate troubleshooting actions may be taken.